Motorcycle and ATV accident lawyers in the Detroit
Now that the nicer weather is upon us in Detroit, Michigan, we are all likely to see more motorcycles and recreational vehicles, such as ATVs (All Terrain Vehicles) out on the road.  With the increase of such vehicles, comes the likelihood that more accidents may occur.  We all need to be on the lookout for motorcycles and ATVs, as they are smaller than regular cars and trucks and can sometimes dart in and out traffic, changing lanes very quickly.
If you have been the victim of a recent motorcycle or ATV accident, you need to do three things as soon as possible:  call for an ambulance (9-1-1), call the police to report the accident, and lastly, call a law firm, such as Injury Lawyer in Detroit, in the case of negligence.  Our injury attorneys have more than 20 years of experience handling motor vehicle accident cases
Recreational vehicles must follow the rules of the road – no exceptions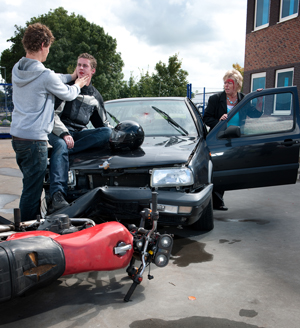 In order to operate a motorcycle in the state of Michigan, drivers must attain a valid driver's license with a motorcycle endorsement.  To learn more about the requirements of driving motorcycles in Michigan, visit this link. If you need a motorcycle accident lawyer then call us now!
ATV drivers must obtain and display special decals from the Secretary of State, and are not allowed to drive three and four-wheeled "quads" on regular roads or highways – they are strictly to be driven in rural areas.  Accidents involving motorcycles or ATVs can be quite serious, dangerous, and costly…just because these vehicles are usually smaller than normal cars or trucks doesn't mean they aren't capable of causing significant damage to drivers or their vehicles.
Even if you and your family are out vacationing in Northern Michigan or in any rural location in the state, and you are the victims of an ATV accident, it is no less serious than any other motor vehicle accident…you need immediate medical and legal attention right away. If you need legal representation and if you are looking for an ATV accident lawyers then you came to the right place, we can help you with your case!
When an accident involving a motorcycle or ATV occurs, you need help from legal experts
Even though you may have been following all the proper traffic rules, you are still potentially vulnerable to being hit by a motorcycle or ATV.  When out on the highway, a motorcycle may appear out of nowhere, and in an instant your calm driving experience is turned into a nightmare when a careless cyclist hits your vehicle.  It makes sense to call medical experts for medical attention, law enforcement experts for police assistance, and legal experts for legal assistance.
The legal team Detroit injury attorneys have specialized experience and expertise handling lawsuits involving motorcycles and ATVs.  Once you call them, they put your case on top, making it their #1 priority in terms of legal research, investigation, and court appearances.  They represent you from start to finish, until a fair settlement has been reached on your behalf.  For more information on the types of motor vehicle accident cases handled by our Detroit injury lawyers, visit https://injurylawyerindetroit.com/motor-vehicle-accidents/
When you call Injury Lawyer in Detroit, you are calling Detroit's #1 Law Firm
If you are seeking the best legal representation in the Metro Detroit area, Injury Lawyer in Detroit is the place to call. Our legal professionals have a winning track record when it comes to trying and setting cases involving motorcycle or ATV vehicle accidents.  We offer you outstanding advantages including:
Experience – Our legal professionals at  have more than 20 years of collective experience handling motor vehicle accident cases.
Multi-faceted professional team – A call to our legal attorneys will gives you access not only to Detroit's top legal experts, but also experts in the fields of medicine, private investigation, engineering, and product development.
Call anytime, day or night – Someone will answer or return your call immediately in the case of an emergency, such as motor vehicle accident.  The legal professionals at Injury Lawyer in Detroit and our staff will respond to your legal needs promptly and courteously, giving your case top priority.
No cost to you unless a settlement is won – Imagine the perks of being represented by a winning law firm such as Injury Lawyer in Detroit without having to pay any fees or costs up front – your case is taken on a contingency basis, meaning the legal fees aren't collected until a settlement is reached.
If an accident has occurred, call legal experts immediately
There is no time to waste if you have been the victim of a motorcycle or ATV accident – you need legal representation – from the best of the best – fast. If you need a motorcycle accident lawyer or an ATV accident attorney  call us at 313-355-5665. For more information visit our website at https://injurylawyerindetroit.com, "Like" our Facebook page, or follow us on Twitter.